Take a look at all the walleye baits and tackle items available. You'll find walleye rods, reels and combinations and plenty of lures, jigs, spinners, grubs and harnesses. We also have hooks, snells, sinkers, as well as books and DVDs. All are from quality merchants offering well-known brands like Loomis, Abu Garcia, Shimano, Daiwa, Northland and Lindy.
Thankfully, social distancing is moving into the rearview mirror. But, even though you may have access to your favorite waters, and local bait&tackle shops are open, you may still prefer options. Not to worry, because thanks to the internet, you can stock up on fishing line, or find that new rod or reel from the comfort of home. We're affiliated with Bass Pro Outlets, so check our shopping pages, we can hook you up!
Early Summer Walleye…
So, now that we're getting into summer and the water is warming into the 60's, walleyes are hungry and aggressive. And they're not necessarily feeding at a particular depth, but bottom to top, throughout the water column. There are two major spring/early summer events to consider. First, once the water hits a certain temperature, the algae begins to bloom, attracting minnows to feed on the nutrients blooms provide. Minnows are a walleye favorite, of course, so they will follow them up to the shallower depths along the shore to feast on the baitfish. Snap jigging at a slow troll is often a great way to go. Popping the jig up quickly and then letting it drop slowly toward the floor can appear to a walleye as an easy meal trying to escape.
An additional feeding opportunity at this time of year is the bug hatch. Every spring, mayflies and other larvae and flies are hatching and walleye will gorge themselves on them. Again, this feeding can occur anywhere in the water column because walleye will actually root through soft bottoms searching for nymphs or come right up to the surface to suck them up. Many fishermen figure that when the hatch is on, walleyes are filled to the gills with hatchlings and have no interest in chasing after anglers' presentations. That's not entirely true, however. Considering that walleyes are focused on small prey, running smaller spinners, butterfly blades and jigs trailing a leech or half a crawler along the outer edges of insect clouds can be very successful.
Of course, techniques and strategies like the above are only starting points and, with a little research, you'll find a lot of great ideas for spring and summer success.
Best Spring Walleye Baits
A natural for walleye, the Rapala Down Deep Husky Jerk is the deep-diving version of the Husky Jerk, designed to reach depths approaching 20′ on the troll and more than 10′ on the cast. This is one lure that tracks true, even when running fast and deep. Great for spring trolling the deeper water where the large females tend to hang, especially in the afternoons.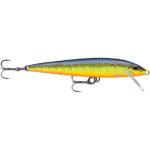 The Rapala Original Floating Minnow is the lure that started it all and is still one of the most popular lures around. Whether twitched on the top as a surface bait, retrieved as a shallow runner, weighted with a split-shot for medium-depth swimming, or bottom walked off a sinker rig, the Original Floating Minnow's wounded minnow action continues to be irresistible to game fish. 4-3/8″ and larger sizes have 3 hooks, all others have 2 .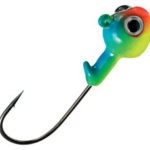 That monster has a bull's-eye on her back, and this is the arrow that's going to fly straight to her! Endorsed by top walleye pros Gary Parsons and Keith Kavajecz, the Bass Pro Shops XPS Walleye Jigs have a unique flat-footed design that keeps your bait in a natural "feeding" position, just out of bottom debris. Great for vertical jigging in current. Upsized wide-gap premium hook; sharp, vivid colors as used by Gary & Keith. 6 pack.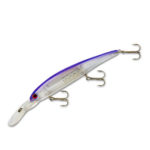 One of the hottest baits on Lake Erie, the
Bandit Lures Walleye Deep Crankbait
gets deep fast and tracks true at a wide range of speeds. Its rounded lip and sleek, true-to-life minnow body give it a rolling wobble that appeals to any walleye, zander, or other toothy predator in the area.
     Your Walleye Weather!
Use Temperature Drop-down for more choices, Hold left mouse button to move map, + – to change size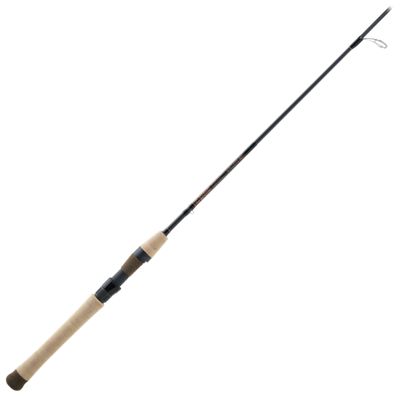 $410.00
Thanks to the input received from tournament anglers, guides, shop owners and pro staffers, G. Loomis® has come up with the accurate, high-performance, technique-specific GLX Walleye Series Spinning Rod. These walleye rods are all about performance, with improved actions, and more precise tapers and length adjustments to cover the most technical aspects of walleye fishing, especially where light weight and sensitivity are paramount to success.
High-performance, technique-specific rods
Especially lightweight and sensitive
Precise tapers and lengths
RECOIL guides
Cork handle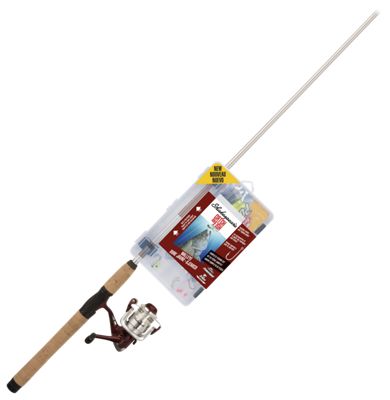 $29.99
When kids can catch fish, they're more likely to enjoy themselves. Beginning anglers really will catch more fish—and have more fun—with the Shakespeare® Catch More Fish Spinning Rod and Reel Combo for Walleye. Ready to fish right out of the box, this easy-to-use combo comes pre-rigged with premium Stren® fishing line and includes a boxful of lures and tackle specially chosen to help them catch walleye. Tackle box contents: 4 Berkley® PowerBait® Minnows, 4 PowerBait Grubs, 2 jigheads, 1 nightcrawler harness rig, 2 walking sinkers, 3 octopus hooks, and 5 fluorescent beads, plus a handy rigging guide with knot-tying instructions and bait selection advice!
Walleye Weight Calculator
Don't have a scale or forgot to bring it? Try this calculator. Just plug in the relevant numbers for a pretty fair estimate of your trophy catch's weight. There are all kinds of formulas for approximating weights, but this calculator has been calibrated to the known lengths/girths of the largest walleyes on record. Be sure to measure from the front tip of the lower jaw to the very end of the tail. Then measure the girth at the widest part around the body.
If you're using a tape measure, lay the fish flat on top of it. Don't make the mistake of pulling the tape over the top of the fish, because you're likely to bend the tape over the fish's contours. That will give you an inaccurate length that won't pass muster with Fish & Game on those closer calls.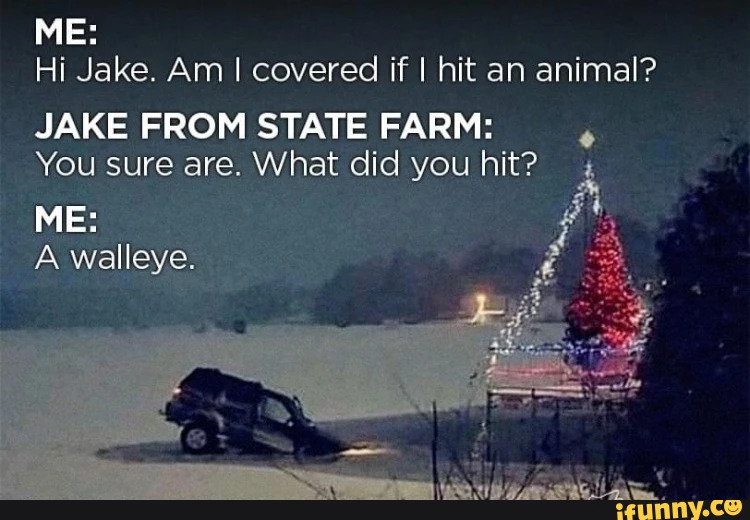 Summer Walleye Fishing Videos
Summer Walleye Strategies – AnglingBuzz TV
Trolling Crankbaits for Mid Summer Walleye
Fishing Tip – Walleye Locations in Small Rivers S11E02
Great Walleye Lures for Summer


Rapala Shad Rap Custom Colors by Yeck Lures
This version of the Rapala Shad Rap Custom Colors by Yeck Lures, is a proven crankbait with the body profile, colors and action that walleye find irresistible. Equally deadly whether cast or trolled. Super-responsive balsa wood construction with a tough, hard-diving lip and sharp trebles; built to weather even the toughest fights. Floats up on the pause.
Legendary casting and trolling crankbait
Custom-painted with unique color patterns
Super-responsive balsa wood construction
Durable construction
Floats at rest
The Johnson Thinfisher
Think thin! The Johnson Thinfisher is one fine, versatile spoon, offering a natural vibrating action on the retrieve plus a built-in sonic chamber that predators just can't seem to ignore. Jig the blade vertically and allow it to swim back down through the strike zone, keeping a firm grip on your rod handle. The spoon comes with two black nickel treble hooks and snap.
Natural vibrating action
Built-in sonic chamber
Black nickel hooks and snap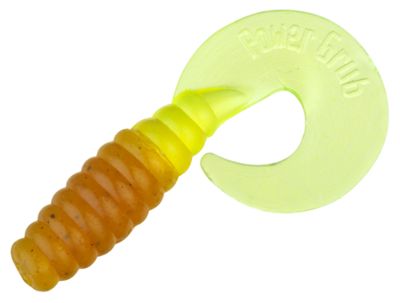 Berkley PowerBait Original Power Grub
You wanted the original colors back, and we listened! Same color names made the way you want. And, with the Berkley PowerBait Advantage, fish hold on 18 times longer! Fluttering action on the drop, plus a bulky profile and PowerBait actives offer big bass a big meal. The Original Power Grub is popular for all species. Perfect for a variety of applications, including jigs and spinnerbait trailers.
Fish hold on 18 times longer
Fluttering action on the drop
Bulky profile
Popular for all species

STORM Hot 'N Tot Madflash
Bass and salmon love 'em, and walleye can't resist 'em. The STORM Hot 'N Tot Madflash offers the same old fish-producing, erratic, side-to-side swagger as the Original Hot 'N Tot. Sporting stunning classic or UV Bright finishes and external scale patterns for maximum flash, these classic wide-wobbling gamefish magnets are perfect for trolling anywhere big fish swim in open water. Outfitted with a traditional metal lip and premium VMC black nickel treble hooks.
Classic or UV Bright finish
Same erratic action as Original Hot 'N Tot
Durable metal lip
External scale pattern
3-D holographic eye
VMC black nickel treble hooks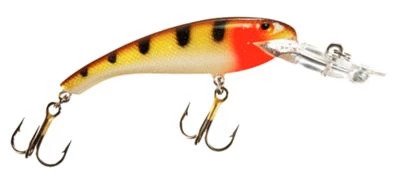 Cotton Cordell Wally Diver
The first crankbait specifically targeted to walleyes to hit the market, the Cotton Cordell Wally Diver is as deadly today as ever. It's the original "banana bait," the often-copied legendary profile that has taken countless walleyes and other game fish in all waters. Whether cast or trolled, the Cotton Cordell Wally Diver's quick-diving "rock with a roll" action brings aggressive strikes at any speed.
The original "banana bait" for walleyes
Effective on all game fish species
Quick-diving "rock with a roll" action
For casting or trolling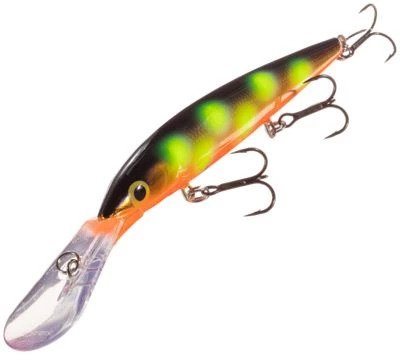 Rapala Down Deep Husky Jerk Custom Colors by Yeck Lures
A proven trophy bait with an exciting new look! This version of the Rapala Down Deep Husky Jerk Custom Colors by Yeck Lures, giving you a bait with the diving, wobbling, suspending action you need, plus unique color patterns that stand out from the ordinary. The oversized, deep-diving lip on the Deep Husky Jerk allows it to dive to 20′ or more on the troll, and 10′ or more when casting. Its neutral buoyancy design allows you to pause your retrieve and let the lure suspend in position, increasing its appeal to wary fish. Balanced profile for long casts; active rattles bring fish in for a closer look. Fitted with razor-sharp VMC® black nickel hooks.
Proven trophy bait for casting or trolling
Custom-painted with unique color patterns
Oversized, deep-diving lip
Neutrally buoyant
Internal rattles to call fish in
Razor-sharp VMC black nickel hooks
Terminator S-1 Super Stainless Tandem Spinnerbait
Engineered to do more of what a spinnerbait is supposed to do, the Terminator S-1 Super Stainless Tandem Spinnerbait actually generates 47% more fish-calling vibration than other spinnerbaits do. And the exclusive beveled edges of the specially designed blades (1 Colorado, 1 willow) produce a ton of extra flash, to create that fleeing-baitfish look that never fails to get a hungry bass's attention. Built on a frame that's fully 30% stronger than traditional stainless wire systems, the Terminator S-1 comes fitted with a changeable Power Pulse QuickSkirt, made of premium silicone for rich, fluid action and featuring an extended accent tail to tease more bites. Premium ball-bearing swivel and VMC hook. More thump, more flash, more strength and durability—when you throw an S-1, it all adds up to more fish! Made in USA.
47% more vibration than other spinnerbaits
Blades have beveled edges for extra flash
30% stronger frame for durability
Changeable Power Pulse QuickSkirt silicone skirt with accent tail
Premium ball-bearing swivel
Premium VMC hook
Tandem blades for maximum thump